Common approach to Business Innovation
In the old days business innovations were written on a beermat by the executive and his/her advisor(s).
Nowadays more people are involved and the business context is more complex.
Business Model Canvas is a good starting point, but to see the business innovation is complex due to the number of:
variables
perspectives
participants
A different approach is needed to get a purpose driven strategy
A transformation from document(s) based strategies to VDMbee Value Cube based strategy models
"I" made many plans …
but nothing is solved
Too many ideas, information and plans

Do we have the same "picture" of ourselves and the market?

Do we have the same objective(s)?
Steer by
"compass"
Discover ins and outs of business ideas

Rationalize and prototype strategy

Analyze scenarios, present and adopt plan

Measure and monitor impact of scenarios
The VDMbee value cube provides a computerized model to support you in:
composing your business model(s) represented as cubes
composing your eco-systems out of multiple cubes
in a structured way
is based on business engineering best practices
utilize facts and data to calculate value contributions
provides a  purpose driven strategy to all the stakeholders
To accomplish this VDMbee created an approach: Continuous Business Model Planning (CBMP)
"Validate your Strategy" service offering
Invent, Innovate, Validate and Improve your strategy related to:
OKR (Objectives and Key Results)

Software centric value propositions

Manufacturing ROI optimization

Smart manufacturing shift towards "servitization"

Circular economy balancing financial, ecological and social value objectives

Smart agriculture expediting new ecosystems
VDMbee provides the CBMP approach to structure business models and monitor the performance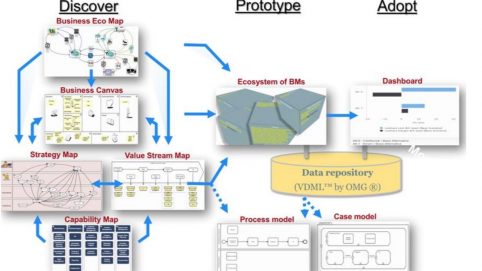 Discover
"Discover" covers the creativity part of the method to discover and build shared understanding of and consensus about:
how things work, or may or should work

what information / facts matter in this context
Prototype
"Prototype" covers the more analytical work of transforming the results of "Discover" into a structured system. This structured system is a representation of the Business, and can be used to perform impact analysis. It functions also as basis for Dashboards, for decision making, that will be developed during the "Adopt" stage.
Adopt
"Adopt" is about development of Dashboards, to present the results of "Prototype", in an interactive way. With focus on:
demonstrating impact on the organization of the business and related Value objectives, for the various Participants/stakeholders that area involved

moderate decision making about implementation and the actual business change
Business operations can during and after implementation monitor the improvements. This is done by comparing the newly implemented baseline with "actuals" (performance metrics). "Actuals" can be imported into VMP to compare Plan versus actuals, and possibly identify reasons to initiate next cycles of innovation and/or transformation. This can result in new Phase(s) in the Plan.
Identifying and modelling value aspects is one of the most common challenges within all disciplines of value management

Working with OMG to deliver a VDML standard lays the foundation for software enabled value modelling

I'm very impressed by VDMBee, not only about their leadership in this field, but also the ability to develop a methodology and platform that bridge and connect: strategy, resources, capabilities, process and the various value offerings

The VDMbee proposition provide new opportunities for both Executives, Managers as well as practitioners in the value space e.g. Value Experts, Value Engineers and Value Architects in addition to Business Analysts and Business Architects around the world
In our aim to stay on top of modern standards for business modeling, Minautics came across VDMbee

VDMbee is one of the premier companies dealing with the Value Delivery Modeling Language (VDML) of the Object Management Group (OMG)

VDMbee offers a promising approach for continuously developing companies' Business Models

VDMbee Value Management Platform aligns Business Models with internal and external Structures and Processes
VDMbee is a great business model platform that clearly assists fact-based and data-driven decision making

VDMbee complements the existing strategy and business model methods by rationalizing business cases

The possibility to use different standard Business Canvases provides an easy start for building the Continous Business Model Plan

In a fast changing work with ever shorter innovation/transformation cycles, a standard process using VDMbee is a great asset
Various approaches exist in the area of value modeling and business ontology

VDML integrates the essences of these into a coherent meta-model, that also enables alignment with operations and IT

Using VDML as structured modeling foundation will also bring new opportunities in service science
A dashboard for decision making about future direction

That's what it is

It is a unique and necessary methodology for every adviser, in or outside the organization
Improved customer satisfaction and efficiency, due to the Business Model insight and overview VDMbee and it's professionals co-created

VDMbee is of great help to create a picture of the Business by using the Business Canvases module as a starter for our Business Model Plan

The capability to perform scenario planning, risk assessments and business simulation gives us continuously deep insights for decision making

We have realtime Strategy

Highly recommended and a no-brainer, even for small companies like us