What is Continuous Business Model Planning ?
It is about a structured approach to develop a time-phased plan to innovate and transform your business, in a certain scope, step by step, or phase by phase, towards the future. 
It is typically applied whenever you encounter a strategic challenge, whether it is a problem or an opportunity, which may concern you, and others in conjunction with you. And whereby you, and the others, have ideas or strategies to respond to the challenge, but whereby it is difficult for you, and the other stakeholders, to oversee its ins and outs and its consequences.
The Continuous Business Model Planning method helps you to demonstrate the impact of these strategies on the organization and value objectives of your business, as well as of the business of other stakeholders involved. Whereby the business system is expressed in terms of an ecosystem of interacting Business Models (one or more), of yourself, and the other stakeholders, typically your partners and customers. 

The word "continuous" relates to the idea of a closed-loop planning activity, like the classic Plan-Do-Check-Act (PDCA) cycle, or like the Define-Measure-Analyze-Improve-Control (DMAIC) cycle that is well-known from Lean Six Sigma.
CBMP can be considered "DMAIC at strategy level" or "strategic DMAIC". It follows the Discover-Prototype-Adopt cycle. "Discover" is about the creative stage of the method. Prototype about the analytic work, and "Adopt" about change facilitation. "Continuous" also implies that this cycle is performed from phase to phase, resulting in a plan that evolves continuously. 
The method is delivered by three personas: Workshop Leader, Analyst and Change Agent. It is fully supported by the VDMbee Value Management Platform (VMP), so that you can apply it productively. 
Discover
The main actor during the "Discover" stage of the method is the Workshop Leader. Discovery is a creative process, led by the Workshop Leader, who guides the participants through a series of workshops. During these workshops, ideas, facts, opinions, etc. are worked into a digital business blueprint. This is a set of related consistent visual representations of the business as discovered, As-Is and/or To-Be.
Creation of this blueprint starts with the drawing the Business Ecosystem, in which multiple participants are interacting with each other, providing and receiving value.
You then may zoom into one or more participants, and per participant, from the perspective of that participant, you define the Business Model, starting with a Business Model Canvas, or a variation to it. This is further complemented by one or more Value Stream Maps. Because, if a participant provides a value proposition in the Business Ecosystem, the Value Stream Map defines what that participant by him- or herself has to do, or be able to do, or to have, in order to deliver that value. Per participant, the value creation story is graphically represented, from the perspective of that participant, in a Strategy Map. This starts with the competencies that the participant will have, due to the intended innovation. It shows how, through the new or transformed Value Stream, value is created for his or her customers and him- or herself. And this is done for multiple participants.
Prototype
Already during "Discover", the Analyst starts to, semi-automatically, transform the digital business blueprint into digital business prototype. This is a structured model, a so-called "Value Delivery Model". It also serves as business calculator.
This model is exposed to the user in VMP as a set of interacting Business Models, each represented by a so-called Value Cube. The Value Cube is a representation of a Business Model suited for simulation of Business Models in multi-Business Model ecosystems.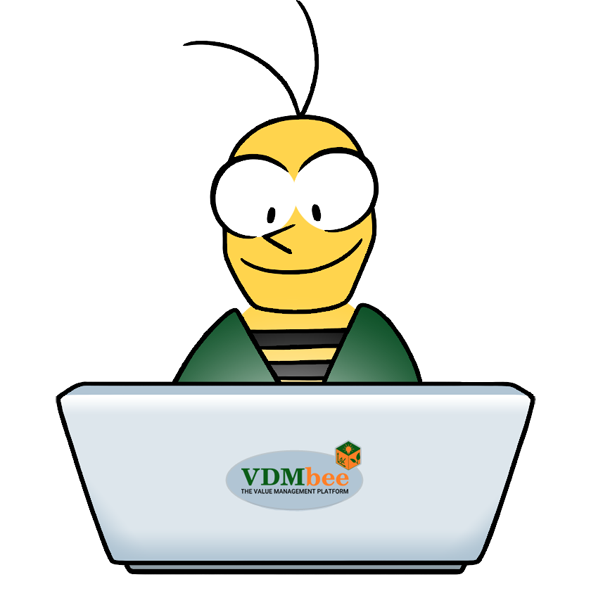 During the "Prototype" stage itself, the model will be worked up further by the Analyst, making the set of interrelated Value Cubes computationally complete. By this the resulting model becomes a concrete and consistent business blueprint with impact on value objectives of all stakeholders involved. And this will then serve as basis for decision making and change implementation during the "Adopt" stage.  
You can also transform parts of the model into Process Models (BPMN) and Case Models (CMMN), for downstream development and business and process automation.
Value Cube to prototype your value contributions with a computerized Business Model …
Process Designer (BPMN2.0) design your high-level Business Processes The Process Designer (BPMN2.0) is an implementation of the bpmn.io process designer …
Case Designer (CMMN1.1) design your high-level Case Models The Case Designer (CMMN1.1) is an implementation of the bpmn.io case designer …
Adopt
The main actor during the last stage, "Adopt", is the Change Agent. This stage is about change facilitation, starting with facilitation of decision making about strategic choices. For this purpose, the Change Agent configures of interactive Dashboards, based on the result of prototyping. These dashboards serve to assess the impact of strategy as prototyped. They expose the results of simulation of the digital business prototype.
These Dashboards are further enabled by scenario planning, to cope with uncertainties and to understand sensitivity of the business towards vulnerabilities. 
After implementation of strategic choices, the digital prototype serves as business sensor (monitor) too.  Because when you decide to implement something in the business, you typically will collect measurements of actual performance of the business ("actuals"), to evaluate the result of change and to compare with the plan. Insights that you obtain from this may then be used to finetune the model or to proceed with next cycles of innovation.
VMP also supports the Change Agent to productively create a Report, which can be adequately used as a deliverable to disseminate your business transformation advice among all stakeholders involved. It can be downloaded in pdf format. 
Dashboards play an important role during the "Adopt" stage of an initiative. They are used to demonstrate Value impact of …
VDMbee added the Report module to the Value Management Platform to support the effort of making your Plan shareable for …
Accelerators
VMP also supports the use of models that serve to accelerate work throughout the stages of Discover, Prototype and Adopt.

For this purpose, VMP supports Capability Libraries, Capability Maps, Value Libraries and Vocabulary Libraries. Content of these can be developed in VMP itself, but can also be imported from industry reference models for which VMP supports importers. Value Stream Maps can be created by import of industry reference models as well.  
Capability Libraries and Value Libraries can be used to enforce the use of, possibly industry-standard, predefined definitions of capabilities (competencies) and values (typically KPIs). This will help to accelerate discovery of Value Streams in Value Stream Maps, and the value creation story in Strategy Maps. It also helps to set value objectives early on during the Discover stage.